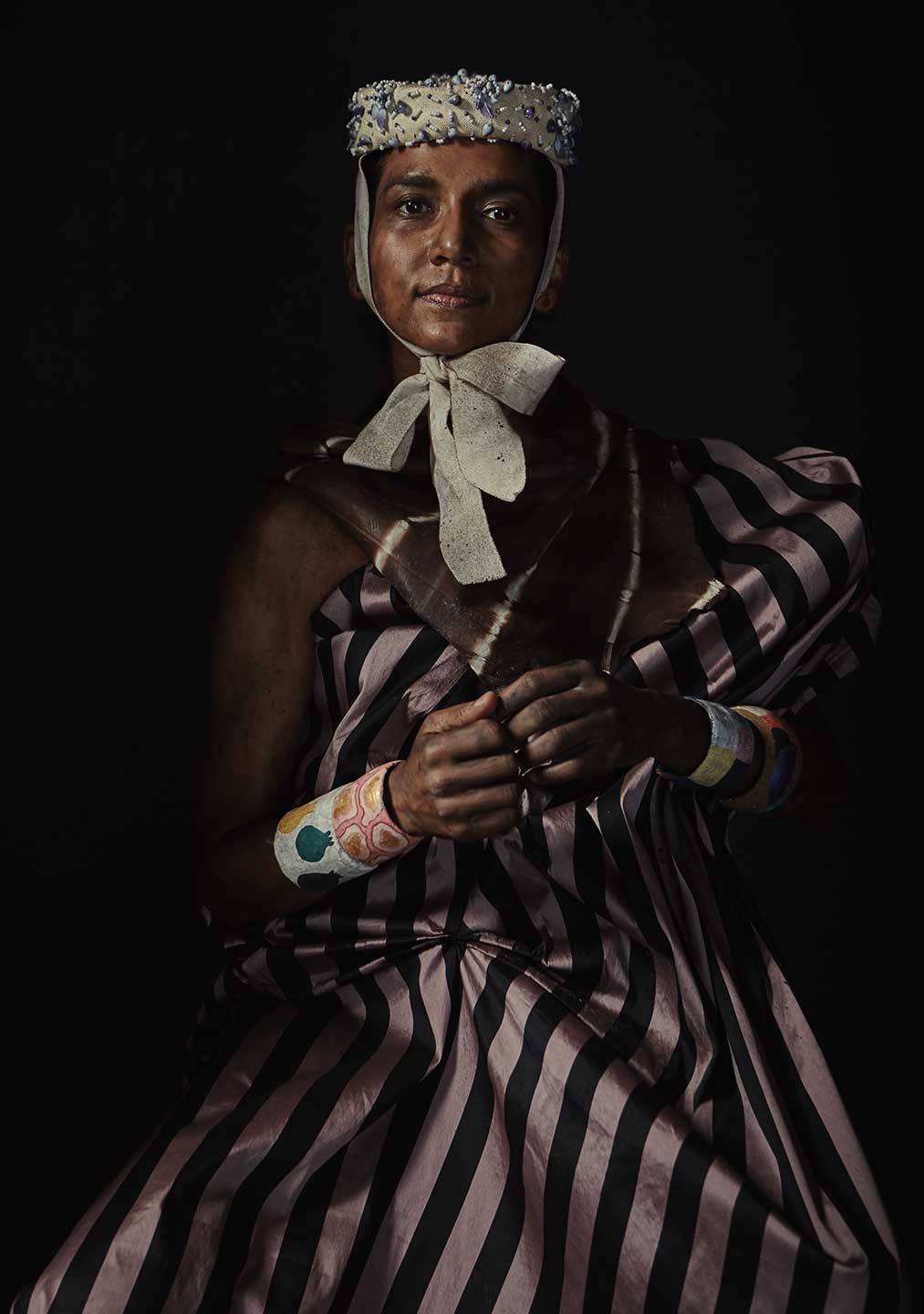 By Tanya Selvaratnam
I almost didn't become an artist. Throughout school, I acted but never envisioned it as a vocation. As a Sri Lankan woman immigrant, I didn't have role models who looked like me out there in public. My own experience didn't give me the courage to pursue theater as a profession. When I was playing a supporting role as a bag lady in an eighth-grade production, the director pulled me aside and said, "You have talent. Stick with it. You have such an expressive face." I was flattered but wondered, Then why did you cast me as the bag lady?
In high school and college, I was lucky to meet peers who cast me in roles like Medea and The Duchess of Malfi. But I still didn't consider a life in the arts feasible. When I moved to New York to help produce events for the NGO Forum on Women and subsequently the Ms. Foundation for Women, I interned and then started performing with The Wooster Group. Finally, I realized, Maybe a life in the arts is possible.
Today, I balance work in film, theater, visual arts, and literature. I produce films and events, act in theater, serve as the Communications and Special Projects Officer for the Rubell Family Collection, and write books and essays. My career has evolved organically and haphazardly. I still feel like I'm figuring it out every day.
If you are passionate about being an artist, devote yourself wholeheartedly to being an artist. But that includes being realistic and intentional about what it takes to support your career as an artist, like being strategic about seeking support (financial and otherwise) and putting together a diverse portfolio of skills that you can rely on to make money.
If I had to go back and do it again, I would give advice to my younger self that I wish someone had given me:
Focus on your passion.
We are constantly pitching ourselves against the expectations of others. As a result, we waste time avoiding what we truly love to do.
If you want to be an artist, then focus on developing the tools you need to become one, rather than spend time on other pursuits that don't fulfill you. The road is not easy, but there are steps you can take to make it easier to navigate.
Identify your role models.
Which artists do you most admire? Who has the career you would most like to have? Look into how they got to where they are, and take steps to emulate them. I realized from an early age that I wanted a career that exemplified the slow build rather than the quick ascent.
Seek out mentors.
When I was starting out, I was lucky to meet people like Kate Valk of The Wooster Group who continue to be mentors to this day. I also take opportunities to mentor young artists, either through official channels like a mentorship program or guest teaching at schools and informally with people who reach out to me. If there's an artist you admire, write to them and see if they would be willing to mentor you. Don't take it personally if they don't respond, but maybe they would be willing if asked. I wouldn't be where I am today without mentors.
See as much art as you can.
Experience art in its myriad forms. You never know where you might find inspiration. If you like Broadway shows, don't only see Broadway shows. If you're interested in experimental theater, don't only see experimental theater. One of my favorite things to do is walk aimlessly and stumble upon art, in a gallery, a park, anywhere.
Learn the business of being an artist.
Many great artists don't stay artists because the economics are too difficult. I've served as a panelist for various funders. As I review applications, I wish that more artists learned how to document their work in a high-quality way, write a clear and concise proposal, or identify their audience and outreach plan. These are aspects not necessarily taught in school. Having mentors and researching the business of being an artist through artist-service organizations can make a difference.
Figure out what you can do to support what you want to do.
This is probably the biggest challenge. Before I was producing to support my art, I worked as a waitress, a cook, an office manager, a transcriber, and more. Recently, I was in Portland, Oregon, where I live part-time. Two musician friends there told me they were studying, respectively, graphic design and computer coding through online courses. They weren't going to stop making music, but they were developing other skills to supplement it.
Build your support network.
By this, I don't mean audience engagement. I mean develop allies who will back you up when you are down. A few years ago, I was at my lowest point, both personally and professionally. I learned how lucky I was to have people in my community who were there to tell me to keep going and focus on my art. Also, artists have the tools to turn adversity into action. When you're going through hard times, write it out, paint it out, act it out. When life throws you lemons, make art.
Be generous and gracious.
For example, if someone asks you for advice, give them even a few minutes of your time or at least explain why you might not be able to at that moment. If someone recommends you for a job, thank them. As Kim Whitener, Producing Director of HERE Arts Center in New York City, said to me: "One thing artists struggle with in terms of the perspective of non-artists is the sense that they're narcissists, that it's all about them. But an artist who is kind and has a strong sense of justice, collaboration, and generosity will get much farther."
Take risks.
I produced an interview with the artist Taylor Mac, in which he said, "Don't be afraid to fail. Don't be afraid to let your voice crack. Don't be afraid to look ugly." I feel these are words to live by. The collector Mera Rubell has told me that she's attracted to art she doesn't understand. Unless you take risks, you won't know how far you can take your creativity.
For MADE HERE, a 50-episode series I produced with Chiara Clemente for HERE Arts Center, we interviewed almost 100 artists about how they make their life and work. I learned so much making that project — one of the biggest takeaways being that if you love being an artist, then be one.
I'll close by quoting some of the artists in that series. Elizabeth Streb, about whom I also produced a feature documentary Born to Fly by Catherine Gund, said: "Wreak havoc … Focus on your dream … and then do that thing." And Bill T. Jones said: "You better love it and you better be a badass. And you better have a thick skin and a big open heart and an agile mind … Don't explain and don't complain. Now have fun. And go give us pleasure."
Tanya Selvaratnam is a writer, producer, actor, and activist; and the author of The Big Lie. www.tanyaturnsup.com
Photo: Tanya Selvaratnam in Andrew Ondrejcak's Elijah Green at The Kitchen. Photo by Georgia Nerheim.