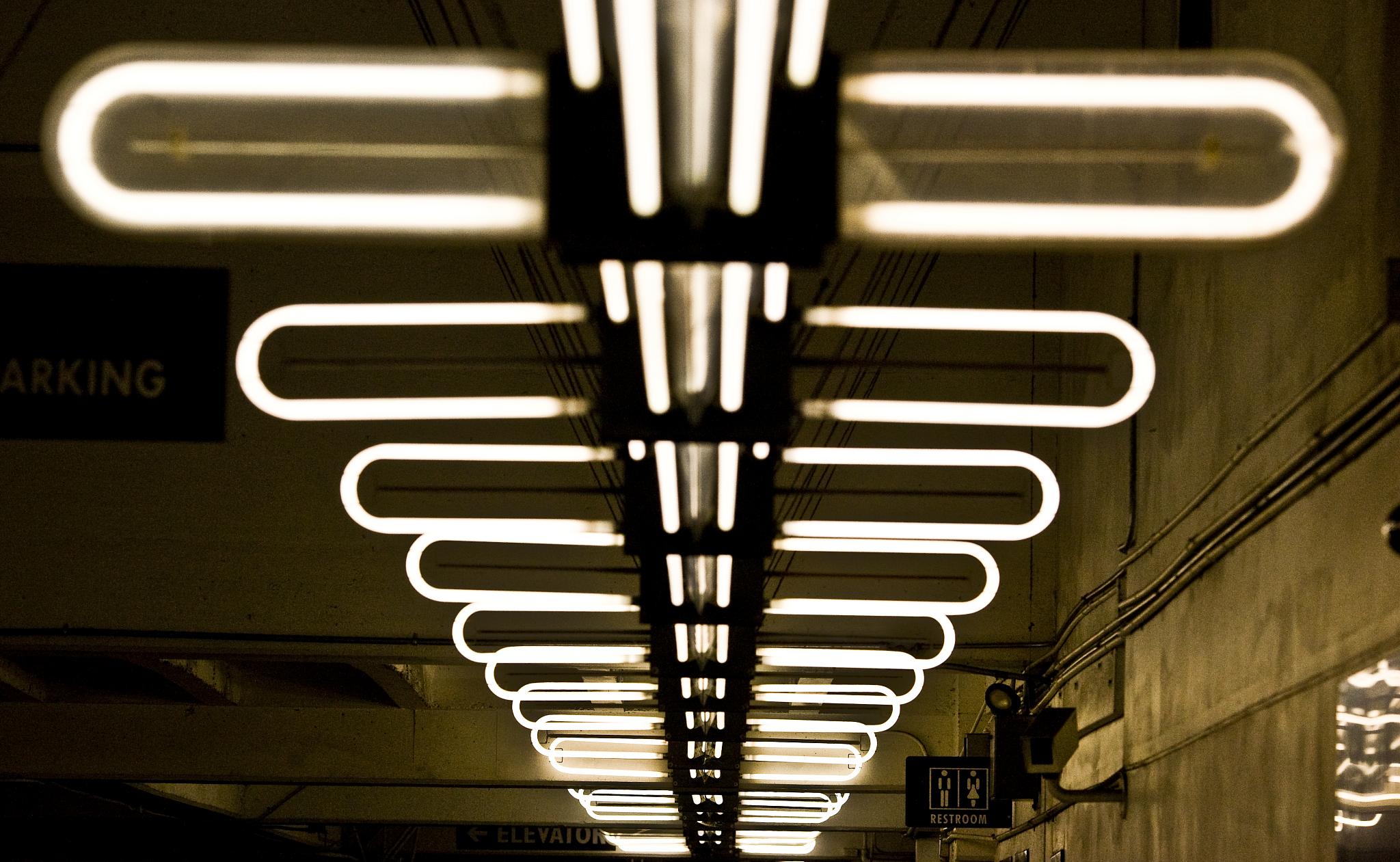 "You never change things by fighting existing reality. To change something build a new model and make the existing model obsolete." – Buckminster Fuller
Many of us—entrepreneurs, business people, educators, social activists, civil servants, designers and others—frequently find ourselves focused on problems. Small or big, intractable or wicked, enormous amounts of time, energy and resources are dedicated to the removal or fixing of things we don't want in our world.
People across sectors are increasingly embracing design for its problem solving methodologies, especially "design thinking." Design thinking is an approach where designers, through direct engagement and listening, build empathic relationships in order to identify and define problems faced by a target group of "users." The design team then rapidly ideates, prototypes and tests possible solutions to identify the best one for the group.
Design thinking can be a very effective process for working with stakeholders to identify problems, remove roadblocks, and achieve desired outcomes. However, in these particularly challenging times, we aren't only grappling with a collection of discrete, pre-defined problems. Rather, we are seeing a system-wide failure of the status quo that begs for a radical reinvention of how we relate to each other and the world.
Many of the approaches and models we have for understanding and fixing problems—including design thinking—are proving to be insufficient and fundamentally limited in their ability to generate wholly new possibilities. The frame of problem solving itself can keep us in a reactionary mode, focused on fixing what exists and removing what we don't want. This actually ends up reinforcing the systems that rule (and are ruining) our world, since the underlying structures, and the worldviews they are built upon, remain unchanged.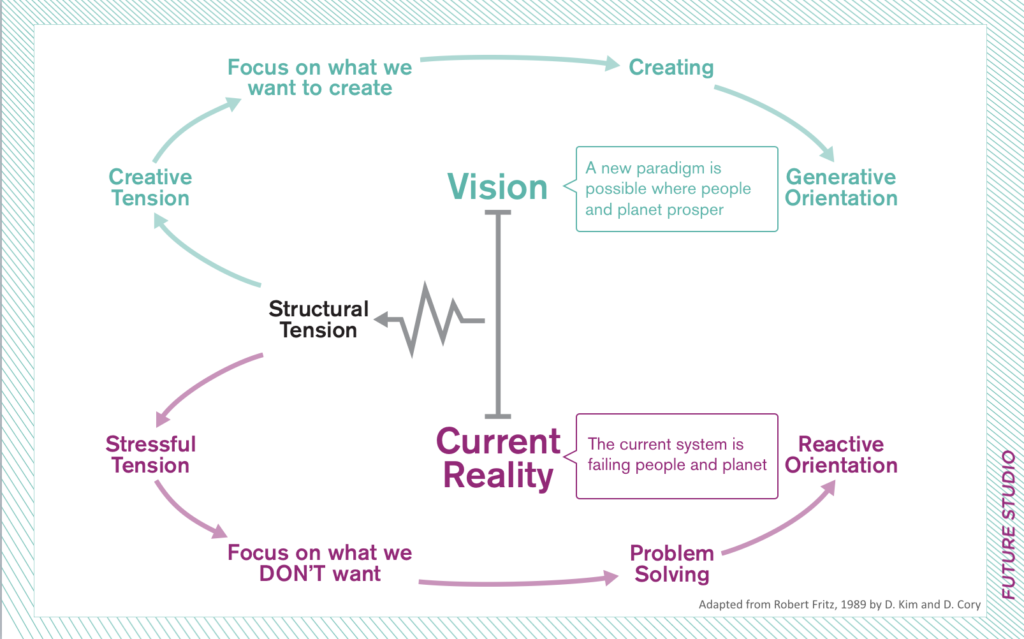 Above graphic: Author and management consultant Robert Fritz describes problem solving as taking action to make something go away (the problem), and creating as taking action to have something come into being (the creation).
So, what if instead of just emphasizing problems and what we don't want, we focused on understanding our deepest hopes, desires, and human needs, and developing entirely new systems and structures that can enable these dreams to become reality?
To do this we need methodologies that can help us both imagine new possibilities and then create the kind of world where humans and the planet can thrive. This kind of creative and generative thinking, without a predetermined problem or destination, is exactly what artists do very well.  If design has become the poster child of and a primary tool for problem solving, I propose that art, characterized by open-ended inquiry driven by imagination and creativity, is an essential and missing ingredient in our quest to remake our world to be a more equitable, just and sustainable place.
However, to fully realize the potential of art to transform society, artists and artistic approaches must be more intentionally and consistently integrated into other sectors, well beyond formal arts contexts of theaters and museums. There are many artists who are applying their creative skills and capacities in a range of business and social contexts. Design thinking offers guidance for how the knowledge, methods, and skills of one sector can be applied broadly, across seemingly disparate areas.
As a landmark example of the difference arts-led visioning can make, artist Rick Lowe's Project Row Houses, founded in 1993 in Houston, reimagined a struggling area suffering from disinvestment into a vibrant and generative place for creativity and community to thrive. From the start, the community's needs–their hopes and dreams–guided the creative work and led to the creation of programs, including housing for young mothers putting themselves through school, office spaces, a community gallery, a park, low-income residential and commercial spaces, and exhibition and residency spaces for artists.
Other examples of artists applying their skills for social change include the Los Angeles-based Public Matters, focused on creative strategies for civic engagement, The Des Moines Social Club, working on economic and cultural revitalization efforts in rural Iowa, and Caroline Woolard and collaborators, working on a community-based New York Real Estate Development Cooperative to help low-income residents stay in one of the most expensive cities in the world.
Each of these artists and collectives are envisioning and creating new structures and systems with human-focused values, and they demonstrate the range of ways artists, and artistic methods, can intervene in and on society itself. This systems-shifting work is, in fact, a vital and essential form of art making.
Yet it is still far from common for artists to see their role in actively changing society, nor is it how most of society sees artists. In part this is because of the way artists are trained and indoctrinated in fine arts schools to focus on art world success, as well as the lack of infrastructure or support for cross-sector work.
As an artist myself, I've consciously sought training that would develop my skills for working in and on the world. Five years ago I enrolled in Bard College's MBA in Sustainability to study the systems that I saw were destroying our world—business, finance and economics—so that I could use my creativity to change them.
Now, at Bennington College where I teach, I've been developing Future Studio, a studio arts course that takes as its materials and tools progressive business models, entrepreneurship, strategic and systems thinking with sustainable practices, along with methods drawn from futurology, design thinking, critical design, and more. We learn from and about diverse disciplines and sectors in order to imagine and begin realizing new enterprises, organizations, and civically-engaged artworks that embed life-affirming models such as worker cooperatives, employee ownership and community regeneration within their structures. I encourage students to trespass into areas once considered off limits to artists (i.e. business) and to move away from reflective or merely speculative work and problem solving alike, and towards actualizing generative and radical remaking of the world in which they find themselves.
These are volatile and challenging times. We live in an era when public and business policy is often driven by profit and greed instead of the health of individuals, the communities we live in, and our planet—leading to one economic and environmental crisis after the other. Though we are rightly compelled to resist, we must also work to harness our creativity to imagine new paths forward and build a future that is equitable, inclusive, sustainable and artistic.
Robert Ransick is an artist, designer and educator. He draws inspiration from the social and political world we live in, history, and the potential for a future that is better. He pursued an MBA in Sustainability after the economic collapse of 2008 to export how he could use his creative skills to affect large scale systems change. His creative work has been exhibited at Eyebeam Center for Art and Technology, Exit Art, Storefront for Art and Architecture, and The New Museum, among others. He is currently a fulltime faculty member at Bennington College where he teaches courses in digital arts, social practices, and creative entrepreneurship within the Visual Arts program and Bennington's Center for the Advancement of Public Action (CAPA). www.robertransick.com

Photo by Thomas Hawk via Creative Commons/Flickr –'Spine' sculpture by Christopher Sproat